I often view various best of lists but often do not give them much thought. However, one list I am keen on is Liftopia's List entitled Best in Snow Awards: North America's Most Beloved Ski Areas. The main reason these lists often disappoint me is they usually ignore my region and the resorts I am familiar with.
The big ski magazines and various other websites are often guilty of this, treating the whole middle of the country as a vast unknown. Liftopia does not ignore Midwestern ski and snowboarding resorts. For once when viewing such a list I am in an authoritative position to agree or disagree.
Obviously, Midwestern ski resorts do not make it to the best in North America list, but at Liftopia breaks it all down by region. Not only does Liftopia consider resorts by region they are also break out the ratings into the following categories:
Overall
Beginner Friendliness
Family Friendliness
Least Crowded
Most Challenging
Best Value
Best Snow
So, Liftopia resorts have many opportunities to get on a list!
How do resorts I am familiar with fare? Not generally well, most of the Midwestern resorts on the lists are from Michigan's mitten and not the UP. However, Minnesota, UP and Wisconsin resorts show up on multiple lists. The resorts I am familiar with on the list are:
Granite Peak WI (#7 Midwest challenge)
Whitecap WI (#2 Midwest least crowded)
Nordic Mountain WI (#6 Midwest least crowded)
Devil's Head WI (#8 Midwest least crowded, #6 beginner friendly, #10 family friendly, #9 best value, #8 top snow)
Blackjack MI (#9 Midwest least crowded)
Lutsen MN (#10 Midwest challenge)
Liftopia's List — Granite Peak vs. Lutsen on Challenge
One entry is disappointing and that is Lutsen's poor challenge ranking. I have skied Granite Peak multiple times and Lutsen (once) as well. Lutsen offers more challenging runs in terms of quality and quantity. I've seen Nub's Knob and it does look like it is a challenging ski resort (based on a summer time photo stop) but I am skeptical the lower Michigan resorts offer more challenge than Lutsen. I have NO disagreement about Mt. Bohemia being at the top of the list.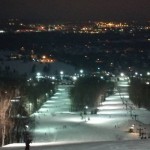 Granite Peak has its challenge, but it is in being able to handle short steeps (most of which Granite Peak grooms), after you get off of the headwall it is a gentle and long runoff to the chairs. I used to sideslip halfway down many of those headwalls and let it go the rest of the way, now I ski them all the way down.
Granite Peak also offers glade skiing and a few runs with moguls (on the steeps and on the runoffs). However, Lutsen has no shortage of moguls and I do not recall any glade skiing there. However, the steeps a step up from Granite Peak and the runs sustain those pitches for longer.
Liftopia's List — "Crowded" Whitecap
I agree that Whitecap's crowds are small. It is remote and all about skiing. The local off-hill amenities (and honestly so too the on-hill amenities) are definitely lacking and there is little opportunity of apres-ski unless one drives to Hurley (not far but certainly not close either). They groom some runs but people who ski and patrol at Whitecap have a hardcore skier attitude. Plus the infamous scary high-chair and some genuine (and usually ungroomed) steeps. All of that serves to keep the crowds in check.
Liftopia's List — Devil's Head – Family Friendly?
The most interesting entry on the list is the Devil's Head appearance in family friendly resorts. Some friends and I spent a night at Devil's Head and my skiing straddled the day and night hours. We enjoyed our time there but the feeling I got was that of a party atmosphere. Devil's Head is not far from Madison and the whole place had a Madison vibe to it, including Madison's reputation of being "a partying" town.
I agree with the beginner friendliness of the resort. The hill was half easy (the blues on that half were greens and the blacks over there were easy blues) and half decent, with some good and fun runs on the other half. Beginners sticking to the one half of the hill are okay even if they take the wrong turn and find themselves going down a blue or a black. Also notable is a super long green run.
Devil's Head does win the value proposition because a lift ticket means eight hours of skiing. They do not clear the hill and make you buy another ticket for night skiing, you simply keep skiing until your eight hours are up or until they close for the night.
Liftopia's List — The Hills I have not Skied
Obviously, there are many resorts on the Midwest list I do not mention, simply because I have never skied them. Many of the resorts are in Michigan's mitten and getting to them would entail a long drive. I have visited Boyne Highlands and Nub's Knob, but it was a summertime stop driving from St. Ignace to Chicago. We stopped, took a break, snapped a few photographs, and moved on. Hardly allowing me to judge their positions on the lists.
Check out the lists and let us know if you think the lists are decent or not!